Woollybear Festival - 48 CANCELLED DUE TO COVID-19
Woollybear Festival goes into hibernation for 2020
The Vermilion Chamber of Commerce, in conjunction with FOX 8 Cleveland, has announced that the Woollybear Festival for 2020 has been canceled due to health considerations brought on by the COVID-19 virus. Vermilion Chamber of Commerce Executive Director Sandra Coe said, "In communicating with FOX 8, we concur that in the best interests of our Woollybear fans and the community, it would be best that we skip a year and let our Wolfert the Woollybear stay in his cocoon and stay safe from the COVID-19 pandemic in 2020." Coe further stated that Mr. Woollybear, retired FOX 8 meteorologist Dick Goddard is resting, and she is looking forward to his return to next year's festivities. Coe stated she will announce the date of Woollybear 2021 at the end of April of next year in conjunction with the Cleveland Browns football schedule.
Woollybear 2020 would have celebrated 48 years. The festival originated in the small hamlet of Birmingham, OH, just south of Vermilion, where it began as a PTA fundraiser. The first Woollybear Festival attendance was 200 strong, and within five years, it grew to 10,000. In 1981, due to its popularity and growth, it moved to Vermilion, where it has been celebrated since. The festival now boasts an attendance of more than 100,000 people, the State of Ohio's largest one-day festival.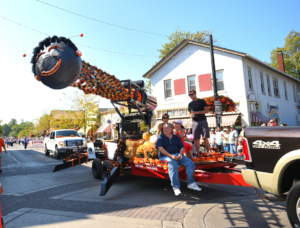 World's Greatest Kids Race
Registration 8am Sunday October 6th at the Vermilion High School Stadium
This free event is a series of races for kids age 1-12. Events range from 5 yards (for 1 year old crawlers) to 550 yards (for 12 year olds). The races are held at the Vermilion High School track on Sailorway Drive. Registration begins at 8 am. Races are held from 9 am - 11 am.
Queen's Festival Breakfast
Miss Vermilion and her court host area queens and festival royalty at a breakfast prior to the parade. Letters of invitation were sent to participants with details on this event. The location of the breakfast is German's Villa, 3330 Liberty Ave. (on Rt. 6, ½ mile west of Sunnyside Rd.). After the breakfast, the Vermilion Police will escort the queens in their parade cars or floats, as a group, from German's Villa to the parade line-up. No other cars will be allowed in the police escort. Families and friends of queens must park in public parking.
ATTENTION ALL vendor inquires:
Planning is in full swing at the Vermilion Chamber of Commerce and with the Committee for this year's Woollybear Festival set for October 6th...the largest one-day festival in the State of Ohio...interested in being a vendor at our annual event? Please email pictures of your set-up and what you sell to vermilionchamber1@gmail.com for committee review and approval. An approved signed contract through the Vermilion Chamber of Commerce must be on file before any vendor may set-up. ALL approved non-profits must have proof of State Certification as a 501(C) 3 status!
Parade Map, Festival Area & Parking

Vermilion's Woollybear Parade is one of the largest parades in the state of Ohio. It starts at 1:30 pm and lasts approximately 2 hours.
Please remember streets will close at 12:30pm so plan accordingly.
Featuring many radio and television personalities including Dick Goddard and the Fox8 News Team.
Parade participants include: Woollybear kids and pets, many marching bands with nearly 2,000 musicians radio and TV personalities vintage automobiles, floats animals, festival queens clowns and much more!
Parade heads east on Liberty Ave., starting at Grand St., then turns right on Sandusky St., then right onto South St., ending at Decatur St.
There are two Woollybear Festival areas in the center of historic downtown Vermilion, Ohio. One is at Victory Park on Rt. 60 (S. Main St.) north of Ohio St. The second is in Exchange Park at the corner of Rt. 60 (N. Main St.) and Rt. 6 (Liberty Ave.). The Woollybear Festival areas consist of entertainment, food booths, craft booths, and merchant sales. Woollybear T-shirts, Woollybear sweatshirts, and Woollybear hats will be available at the Vermilion Chamber of Commerce stand. Various entertainers are at the main stage throughout the day. Parade commentary by Dick Goddard of Fox 8 occurs at the reviewing stand. See VermilionOhioNews.com for Woollybear Festival updates.
Help us help our local non-profits and school fundraisers by using the following parking areas for the Woollybear Festival Sunday, October 6, 2019. Remember the roads close at 12:30pm.
History of Woollybear Festival

The Woollybear wackiness all started more than three decades ago. Northeast Ohio TV weatherman Dick Goddard of Fox8 TV in Cleveland talked with some friends and co-workers about his idea of a celebration built around using the woollybear to forecast what kind of winter is ahead.
In 1972 the newly-elected officers of the Parent Teachers Association at the Firelands-Florence Township Elementary School in the tiny community of Birmingham in Erie County were looking around for a vehicle to raise funds. They heard about Goddard's idea of a Woollybear Festival. They contacted him and offered to stage the festival with his help.
The first Woollybear Festival was held in Birmingham and attracted perhaps 2,000 people. The parade was short—just the Firelands High School Band, some boy scouts and the local fire department, along with personalities from TV8—and they decided to go around the parade route twice, just to make it look longer.
After eight years in Birmingham, the crowd at the event had grown to an estimated 15,000 and was causing gridlock on the highways into the tiny community, so it was decided to move it to a larger city.
Thirteen towns and cities around northern Ohio expressed interest in hosting the ever-growing family-oriented event.
Goddard and a committee of the original founders finally settled on the pretty resort city of Vermilion, only nine miles north of where the festival was born in Birmingham. And the rest is history…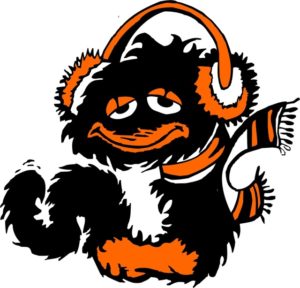 Woollybear Facts
The common moth Pyrrharctia isabella is known by different common names at its two main life stages. The adult is the Isabella tiger moth and the larva is called the banded woolly bear. The larvae of many species of Arctiid moths are called "woolly bears" ("wooly bears", "woollybears") because of their long, thick, furlike setae. This species is black at both ends with a band of coppery red in the middle. The adult moth is dull yellow to orange with a robust, furry thorax and small head. Its wings have sparse black spotting and the proximal segments on its first pair of legs are bright reddish-orange. The banded woolly bear larva emerges from the egg in the fall and overwinters in its caterpillar form. It survives winter freezes by producing a cryoprotectant in its tissues. Once the weather warms, the larva devours all the grass and weeds it can, pupates, and becomes an adult, which then lives through the summer. It is the larvae of this species which are the subject of common folklore, which has it that the forthcoming severity of a winter can be predicted by the amount of black on the caterpillar; this is the most familiar woolly bear in North America. The setae of the woolly bear are not urticant, but they will play dead if picked up or disturbed.
Discover Vermilion, Ohio
If the excitement of the Woollybear Festival isn't enough then while you're in Vermilion be sure to stroll around town and visit it's quaint shops and stores offering everything from home-made chocolates to candles. There's even an old fashioned soda fountain in downtown Vermilion. Another unique feature of Vermilion is "The Lagoons" a prestigious residential area across the river from downtown. To get a water-level view of the town and the lagoons The Mystic Belle, a tiny stearnwheeler cruise boat, will be operating during the Woollybear Festival taking visitors on rides up and down the Vermilion River.