The Ultimate Railfan Destination
Trains began running through Vermilion, Ohio starting in 1853. For over 140 years the rumbling, roaring, shaking, screaming tornados have rushed through the quiet village. Ships have come and gone in this little city by the sea, but they were never the acoustic monsters like the trains which roll along like wild demons in a race. Freight of all kinds flies through the city, and as far as we can foresee, it will continue for 140 more years. Such is life in a railroad town.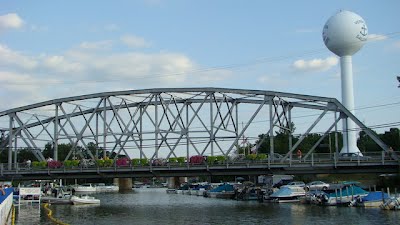 While the sites and sounds of the railroad have long faded in many towns and cities, Vermilion's train traffic continues to increase.  Following a joint acquisition of Conrail lines by Norfolk Southern and CSX Railroads in 1997, our historic Harbour Town saw a threefold increase in freight train traffic. A 2003 agreement rerouted 97 trains a day traversing the center of Vermilion.  With over 120 trains per day, expected to increase too 200, Vermilion Ohio is a railfan paradise.
The railroad action in Vermilion is virtually non-stop, and no other railroad town offers a more beautiful location in a picturesque town on the shores of Lake Erie.  Local shopkeepers welcome railfans in the historic downtown, while a variety of exceptional dining choices are all within walking distance to some of Vermilion's best railfan viewing areas.  A public comfort station, located in beautiful Exchange Park, is conveniently located downtown.  Three additional historic train depots provide a wealth of photo opportunities.  Bed and breakfasts and cottages are within walking distance to Vermilion's Mainline viewing areas and several campgrounds are nearby.  The public library and several area businesses offer free internet access.
Best Railfan Viewing Locations
DOWNTOWN VERMILION: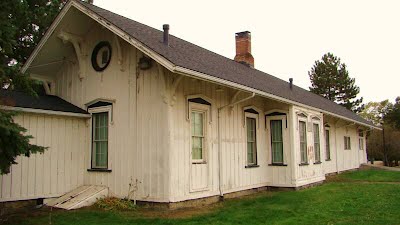 It doesn't get any better for rail buffs than Vermilion's historic downtown, with at least 5 trains racing through town every hour.  A rail-viewing platform sits in the city's historic "Harbour Town" district in downtown Vermilion at Victory Park.  The platform feaures a deck, benches, a railfan information station and radio. Shops, restaurants and a wealth of historic architecture are all close by. Both NS (ex-CR, exx-PC, exxx-NYC) and NS (ex-N&W, exx-NKP) run parallel in Vermilion, coming from Cleveland.  Just west of downtown, NS/NKP heads south to Bellevue.  A new connector is being built in the Vermilion area.
In the downtown area from Liberty Avenue (US-6), go south on Main Street (OH-60) one block and cross the ex-CR mainline.  Free parking is available right next to the mainline at Vermilion's 'Town Square', Victory Park – an exceptional location for train-watching.  This beautiful park features benches, picnic tables, barbeque grills, a Grand Gazebo, a childrens' play area and rose gardens. An historically preserved wooden station, Vermilion's New York Central Station, sits adjacent to the park.  There are ample off-railroad shots available for both am and pm shots.  Dining, restrooms, shopping and history galore are all a few steps away.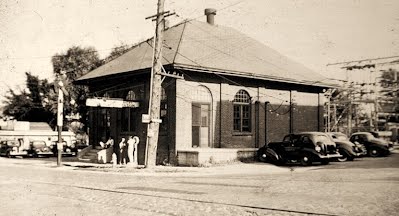 Rotary Centennial Park overlooks the Vermilion River under the historic water tower on West River Road in Harbour Town.  This award winning park features flowering trees, plantings, benches, picnic tables and breathtaking views of the river and railroad tracks.  The park also features an historical marker plaque highlighting Vermilion's railroad history.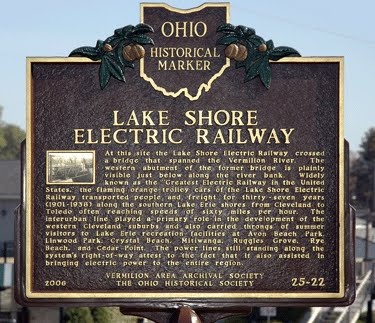 At this site the Lake Shore Electric Railway crossed a bridge that spanned the Vermilion River. The western abutment of the former bridge is plainly visible just below along the river bank. Widely known as the "Greatest Electric Railway in the United States," the flaming orange trolley cars of the Lake Shore Electric Railway transported people and freight for thirty-seven years (1901-1938) along the southern Lake Erie shores from Cleveland to Toledo often reaching speeds of sixty miles per hour. The interurban line played a primary role in the development of the western Cleveland suburbs and also carried throngs of summer visitors to Lake Erie recreation facilities. The power lines still standing along the system's right-of-way attest to the fact that it also assisted in bringing electric power to the entire region.
All along the ex-CR and ex-NKP lines in the downtown area are terrific photo locations.  Spend the day, maybe two, to take in all that is Vermilion.
The Nickel Plate Station is also being restored and will serve as a second railroad museum and commuter train station.  The Vermilion Train, Rail, and Depot Buffs record history, preserve artifacts and has bimonthly meetings on the Commuter Rail Program which will offer commuter rail from Cleveland to Vermilion and beyond.
VERMILION'S EAST END:
Coming into Vermilion from the east on Liberty Avenue (US-6), you will cross over the NS (ex-N&W, exx-NKP) mainline.  Going west on US-6, turn left onto Vermilion Road and you will come to the NS (ex-CR, exx-PC, exxx-NYC) tracks at grade.  Walk along the tracks for a short distance to the east, and you will see the point where ex-CR crosses over ex-NKP.  Go back to Liberty Avenue (US-6) and make a left towards town.  Right after passing over the Vermilion River, make a left on West River Road, and go under the ex-CR tracks.  The beautiful Vermilion Public Boat Docks park on the left offers fantastic view of trains passing over the Vermilion River bridge.  Don't miss the views from Rotary Park when heading back into town (see above.)
VERMILION'S WEST SIDE, NS/EX-CR CONNECTION
In the infrastructure work done by Norfolk Southern prior to the break-up of Conrail, this connection was a key piece in northern Ohio.  Just west of Vermilion, the ex-CR, exx-NYC, Chicago line and the NS, ex-NKP line are parallel and quite close to each other.  Both lines are just south of US-6.  A connection was put in as follows: The junction at the north, the ex-CR line, was put in to the south of Daylon Court, a subdivision-type street.  There is no access to the tracks without getting permission from a home-owner.  The south end junction with the ex-NKP is just to the east of Coen Road, and is wide open. This connection serves three major purposes:  1.  It can take NKP freights that had to crawl thru the western suburbs of Cleveland, and get them thru town via the much faster ex-CR tracks.  2.  Slow freights can be taken off the ex-CR and routed west via Bellevue.  Therefore, it should be easier to get time-sensitive trains over the ex-CR.  3.  Either line can serve as a safety  valve/relief outlet for the other.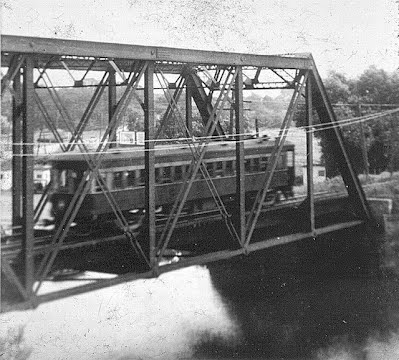 The first trolleys ran from Sandusky to Vermilion in 1899, an offshoot of the Sandusky Street Railway, the Sandusky & Interurban Electric Railway. City-style cars prowled the rails when it opened from Sandusky to Vermilion via Huron on July 26, 1899, a 24-mile sprint. Work gangs toiled eastward to meet the Lorain & Cleveland in Lorain, another 10-mile hop. The S & I was built with an expansive eye to the future — double track provisions were engineered into all bridges as well as into the roadbed. It was a combination roadside and private right-of-way operation. In the autumn of 1901, the Everett-Moore Syndicate absorbed the S & I and others to create the Lake Shore Electric Railway.
The Lake Shore Electric Railway (LSE) was an interurban electric railway that ran primarily between Cleveland and Toledo, Ohio. Through arrangements with connecting interurban lines; it also offered service to Fostoria and Lima, Ohio, and Detroit. The line served many communities along the south shore of Lake Erie, at a time of mostly horse-drawn vehicles on dirt roads, with innovative, high-speed transportation that rivaled the area's steam railroads. It helped to develop tourism as a major industry in northern Ohio; by serving several lake shore recreation areas (some owned by LSE and others privately owned) such as Avon Beach Park in Avon Lake; Linwood Park in Vermilion; Crystal Beach, Beulah Beach, Mitiwanga Park and Ruggles Grove (Ruggles Beach) between Vermilion and Huron; Sage's Grove and Rye Beach in Huron. It also brought large numbers of visitors to a ferry dock serving a small beach park and picnic ground off Sandusky called Cedar Point, that evolved into the giant amusement park resort of today. It was formed August 29, 1901 through the merger of several smaller interurban railways: Lorain and Cleveland Railway, running between Cleveland and Lorain, and intent on building westward at the time of the merger. Sandusky and Interurban Railway (S&I), which had begun as a local transit operation in Sandusky, and was building eastward from Huron to Lorain at the time of the merger. Toledo, Fremont and Norwalk Railway (TF&N), serving Toledo, Fremont, and Norwalk and building eastward toward Lorain at the time of the merger. Sandusky, Milan and Norwalk Railway, formed in 1893 and one of the earliest interurban railway companies in the United States, between Sandusky and Norwalk, via Milan. This line served as the earliest physical connection between the Sandusky and Interurban Railway and the Toledo, Fremont and Norwalk Railway after the merger. It became a branch line after completion of the previously planned TF&N line east from Norwalk to connect to the S&I at "Ceylon Junction", a few miles east of Huron. It was also the first portion of the Lake Shore Electric system to be abandoned, ending service on March 29, 1928. The LSE later added the following interurban lines and operated them as branches: Lorain Street Railway, which ran between Lorain and Elyria and operated Lorain local transit services.
Avon Beach and Southern Railway, which ran between South Lorain and "Beach Park" in Avon Lake, the location of a Lake Shore Electric resort park, passenger station, car barn and electrical generating station. A small portion of this line is the only part of the original LSE system still in operation today, becoming what is now a Norfolk Southern Railway branch serving the FirstEnergy Corporation's Cleveland Electric Illuminating Company(CEI) generating station at Avon Lake. This plant was first built to replace the LSE power plant at the same location that was destroyed in an explosion and fire in 1925.
The Lake Shore Electric built a short branch to Gibsonburg, Ohio that opened on December 21, 1901. This branch was built as part of a planned expansion by LSE south and west to Findlay and Lima. This goal was reached instead by joint services with the Fostoria and Fremont Railway and the Western Ohio Railway and the line never went beyond Gibsonburg. It built a new route between Fremont and Sandusky via Castalia, commencing service on July 21, 1907, and later relocated some of its lines in Huron (opened in 1918) and Sandusky (opened in 1931).
The Lake Shore Electric at its height offered multiple-unit trains of interurban cars from Cleveland and Toledo. These trains would split in Fremont on the west and at Ceylon Junction (a passenger station on the former S&I line east of Huron at the connection with the former TF&N branch to Norwalk) on the east. After splitting; some cars would travel via the Huron, Sandusky and Castalia route and other cars would go via the Norwalk, Monroeville, Bellevue, and Clyde, route. The service was scheduled so the cars would re-join at Fremont and Ceylon Junction, respectively, to continue on to their destinations in Toledo or Cleveland.
The Lake Shore Electric achieved national notoriety through the heroism of a motorman, William Lang, who climbed out of his moving trolley car and snatched a 22-month old child off the tracks on August 24th, 1932 near Lorain, Ohio. The young girl, Leila Jean Smith, grew to adulthood and they remained friends for the rest of his life.
As its passenger business waned with the increasing number of private automobiles on paved roads, it outlived most connecting interurban lines by concentrating on freight services. However, the Lake Shore Electric went into bankruptcy on October 5, 1932 and ended interurban rail operations on May 15, 1938, with Car #167 making the last run out of Cleveland.
Several physical remnants of the Lake Shore Electric can still be found today. In the cities of Bay Village and Avon Lake are streets named "Electric," running over the former right-of-way. Also, bridge piers can be found at the Cleveland Metroparks Huntington Reservation and in Rose Hill park, both in Bay Village, and at several other locations. Much of its route can still be traced in northern Ohio by power lines on unusually high utility poles, where LSE's former electrical transmission infrastructure became the property of area utility companies.