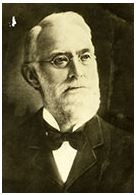 Lester Allan Pelton (September 5, 1829 – March 14, 1908), considered to be the father of modern day hydroelectric power, is one the most famous inventors of American history.  Pelton invented the impulse water turbine.  Lester Pelton was born in Vermillion, Ohio in 1829. His father was a farmer.  He lived on Risden Road and attended the Cuddeback School on the northwest corner of Risden and Lake Roads.  He had seven siblings.  His grandfather, Captain Josiah S. Pelton, located in Vermilion in 1818. In ill health, his oldest son, Josiah S. Jr., assumed the role of family patriarch. The family prospered and all figured prominently in the development of Vermilion in business and government.  But it was Lester who would become world famous.
When Lester grew up he decided to travel by wagon train to California. He was a quiet person who liked to study and read books. At first he went to Sacramento and became a fisherman. He was not successful at fishing so he decided to move. He went to Camptonville in Nevada County after he heard about a gold discovery along the North Fork of the Yuba River.
In 1860 all types of mining were going on, placer, hardrock, and hydraulic. Pelton did not want to be a miner so he decided to improve mining methods. He watched, studied, and learned about methods needed to power hydraulic mining. Hardrock mines also needed power to lower the men into the mines, bring up the ore cars, and return the workers to the surface at the end of their shift. Power was also needed to operate rock crushers, stamp mills, pumps, and machinery.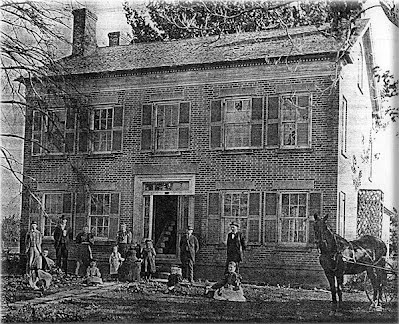 At the time the steam engine was used by many mines for their main power source, but the hillsides were running out of wood and trees. The Empire Mine in Grass Valley used about twenty cords of wood a day. Pelton knew the forests were disappearing so he began thinking about inventing a water wheel. In 1878 he experimented with several types of wheels.
According to a 1939 article by W. F. Durand of Stanford University in Mechanical Engineering, "Pelton's invention started from an accidental observation, some time in the 1870s. Pelton was watching a spinning water turbine when the key holding its wheel onto its shaft slipped, causing it to become misaligned. Instead of the jet hitting the cups in their middle, the slippage made it hit near the edge; rather than the water flow being stopped, it was now deflected into a half-circle, coming out again with reversed direction. Surprisingly, the turbine now moved faster. That was Pelton's great discovery. In other turbines the jet hit the middle of the cup and the splash of the impacting water wasted energy."
As the story goes, Pelton was further inspired one day when chasing a stray cow from his landlady's yard. He hit the cow on the nose with water and the water split, circled the cows nostrils and came out at the outer edge. This gave him an idea. He rushed to his workshop and began to make a water wheel with split metal cups.  The wheel was proven to be the best and most efficient in a competition. The Nevada City Foundry began to manufacture the wheels and ship them all over the world.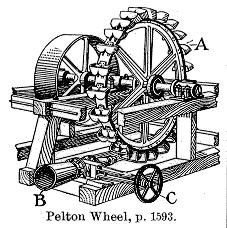 The Pelton wheel introduced an entirely new physical concept to water turbine design (impulse as opposed to reaction), and revolutionized turbines adapted for high head sites. Up until this time, all water turbines were reaction machines that were powered by water pressure. Pelton's invention was powered by the kinetic energy of a high velocity water jet.
A patent was granted in 1889 to Pelton, and he later sold the rights to the Pelton Water Wheel Company of San Francisco.  Today Pelton wheels are used worldwide for hydroelectric power with not much change in design from the original wheels.  Later evolutions of the Pelton turbine were the Turgo turbine, first patented by in 1919 by Gilkes, and the Banki turbine.  Pelton was inducted into the National Inventors Hall of Fame.  His invention is on display in museums throughout the world, including the Smithsonian.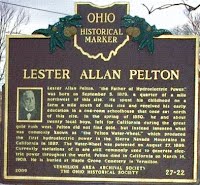 Pelton and his family are buried in Maple Grove Cemetery on Mason Road in Vermilion, Ohio.  His birthplace home has been fully restored by Tom and Jean Beach.  The Lester Allan Pelton Historical marker is located at Cuddeback Cemetery, Risden and Lake Roads, Vermilion Township.  The marker reads: "Lester Allan Pelton"
Lester Allan Pelton, "the Father of Hydroelectric Power," was born on September 5, 1829, a quarter of a mile northwest of this site. He spent his childhood on a farm a mile south of this site and received his early education in a one-room schoolhouse that once sat north of this site. In the spring of 1850, he and about twenty local boys, left for California during the great gold rush west. Pelton did not find gold, but instead invented what was commonly known as "the Pelton Water-Wheel," which produced the first hydroelectric power in the Sierra Nevada Mountains in California in 1887. The Water-Wheel was patented on August 27, 1889. Currently variations of it are still commonly used to generate electric power throughout the world. Pelton died in California on March 14, 1908. He is buried at Maple Grove Cemetery in Vermilion.