Festival of the Fish - June 18th - June 20th 2021
UPDATE May 13th 2021 (Ohio Health Director will be lifting all mandates, including the Mask Mandate effective June 2nd.  You are still free to wear a mask if you prefer, but it will not be mandated.  We ask that if you feel ill please skip this years festivities and we will see you next year. Please be respectful to all as we start our festival season safely).
Festival of the Fish is back and better than ever!
In addition to our beer/beverage stations here's what else is on tap... Fireworks, Lighted Boat Parade, Royalty Pageant, Royalty Brunch, Crazy Craft Regatta, Live entertainment by Disco Inferno, E5C4P3-Journey Tribute Band, Ace Molar with Fox 8 Todd Meany, tons of festival food and a market place filled with fun unique items...and a theme with burst of colors as we bring a lil New Orleans to Vermilion with Mardi Gras theme...You will notice a few changes at the festival so we can comply with recommended guidelines in order to bring you a fun and safe free event. Please watch our Facebook page and website for updates, guidelines and event participation forms. wwww.vermilionohio.com Festival of the Fish Father's Day Weekend June 18th-20th.
Join us in downtown Vermilion for the 55th Annual Festival of the Fish  featuring FREE daily entertainment & FREE admission, kid's games, food and marketplace, Fireworks Friday, June 18th, Parade Sunday June 20th . Lighted boat parade, Sand castle building contest, Crazy Craft Race, Royalty Pageant,  and Firefighters Water Fights!
Vermilion's Festival of the Fish is one of the largest festivals in the area.  Every year the City of Vermilion celebrates the sea on a grand scale with parades, boat parades, races, pageants, contests, food, entertainment, markets and much much more.  This is a "don't-miss" event of the year each Father's Day Weekend.  On Friday young individuals vie for the coveted title of Miss or Mister guppy, princess and prince, Little Miss and Little Mister and queen and king in one of the largest festival pageants in the county.  Dozens of animals walk in the annual pet parade.  Kids games take place at the gazebo.
Friday kicks off at noon as the Midway opens with lots of delicious foods and spectacular craft vendors.  Live entertainment nightly on the Main Stage.   The Royalty Pageant begins at 12:00 pm.  FIREWORKS at dusk launched off the break wall over beautiful Lake Erie. On Saturday the day kicks off with a Sand Castle Contest at Main Street Beach.
The Crazy Craft Races take place at 1 pm on the Vermilion River.  The event is open to all, so all you need is some imagination to build whatever kind of vessel inspires you.  The annual Lighted Boat Parade takes place at dusk on the Vermilion River on Saturday enjoy the wonderful boats as they move from the Port Authority docks to the break wall.  The Annual Father's Day Parade steps off at 12:30 pm on Sunday.  Don't miss the wet and wild Firefighters Water Fight immediately following the parade.  Food, entertainment, vendors, games and beer stations each day beginning at noon in and around Victory Park.
Festival of the Fish Highlights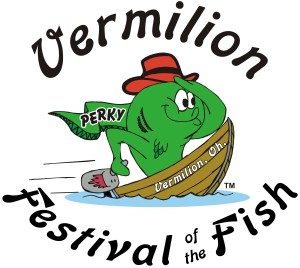 Festival Hours:
Friday: 12pm-11pm
Saturday: 12pm-11pm
Sunday: 12pm-6pm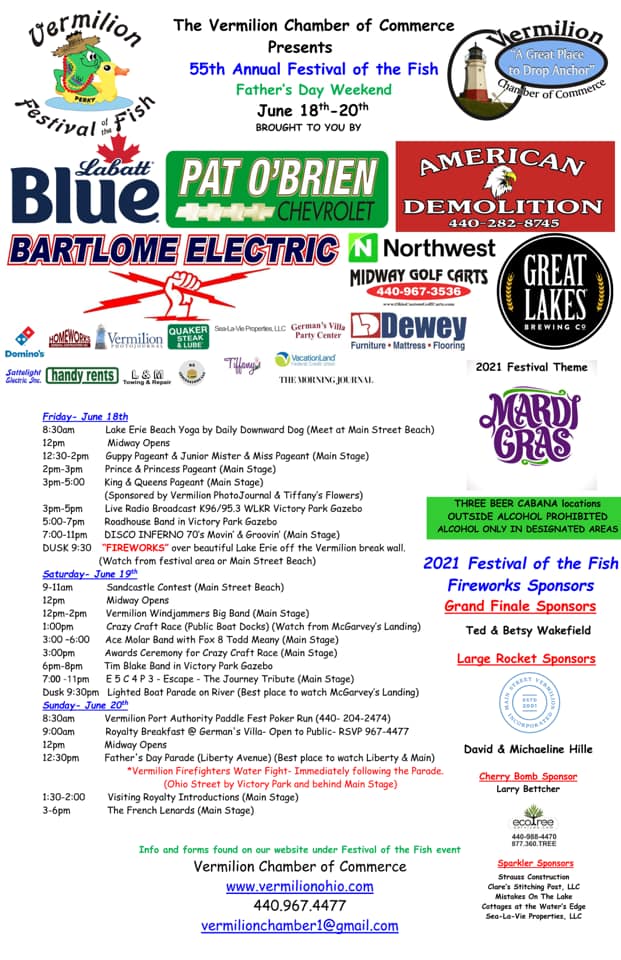 Fireworks
Lighted Boat Parade
Crazy Craft Race Theme
Queen's/King Pageant
Princess/Prince Pageant
Guppy Pageant
Little Miss/Mister Pageant
Sand Castle Contest
Vendors, Entertainment, Food
Exchange Park Market Place Crafts and Collectibles
Father's Day Parade
Firefighters Water Fight
Fireworks River Closure Information
Festival Location
Rt. 60 (Main St.) between Rt. 6 (Liberty Avenue) and Ohio Street, in the center of the historic downtown Vermilion, Ohio.

ATTENTION ALL vendor inquires:
Click on the application below and fill out completely, once approved an invoice will be emailed to you for payment.  Your space is not secured until payment is received in full.  Please direct all questions to vermilionchamber1@gmail.com.
Discover Vermilion, Ohio
If the excitement of the Woollybear Festival isn't enough then while you're in Vermilion be sure to stroll around town and visit it's quaint shops and stores offering everything from home-made chocolates to candles. There's even an old fashioned soda fountain in downtown Vermilion. Another unique feature of Vermilion is "The Lagoons" a prestigious residential area across the river from downtown. To get a water-level view of the town and the lagoons The Mystic Belle, a tiny stearnwheeler cruise boat, will be operating during the Woollybear Festival taking visitors on rides up and down the Vermilion River.