Cottage at the Waters Edge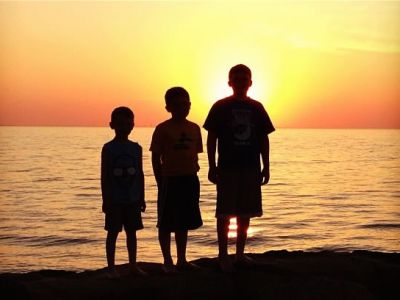 Business Name: Cottages at the Water's Edge
Physical Address: 6419 W. Lake Rd., Vermilion, OH 44089
Phone: 440-967-9480
Questions:
How many years have you been in business?
The cottages have been in the family for over 65 years. Dave and Therese Hoffman are the owners of Cottages at the Water's Edge. The cottages were purchased in 1985 from Therese's aunt and uncle who operated the business under the name of "Sy Sans Beach" from 1963 to 1985. They purchased the business from Therese's grandmother who operated it from 1953 to 1963 under the name "Miller's Sandy Beach Cottages".
To learn more about our cottage history, visit our website www.watersedgeonline.com.
What do you love most about what you do?
We love having a place where guests can make memories to last a life time. We feel lucky to be on the shores of Lake Erie and to be a part of Vermilion, a lovely town on the lake.
What is a fun fact about you that not many know?
We have some guests that have been coming here with their families for over 60 years. Each week is like its own reunion with people who make this place a yearly tradition.
Go back in time and enjoy a lake cottage vacation. Our goal is to provide today's family and future generations a "window into the past". "Unplug" and escape the hectic pace of today's world and treat your family to a vacation that is reminiscent of a simpler way of life.
Enjoy the sunsets over the lake and islands, the lake breeze, and the sound of the waves. Swim, sunbathe, build sandcastles, fish, boat, read, play yard and board games, cook over an open fire or just relax at the campfire, meeting and talking with other guests.
We look forward to the summer season when we see old friends return and new friends are made. Like many others, we hope that you will make Cottages at the Water's Edge an annual family tradition.